Online magazines are all the rage, and they're the perfect outlet for all the whimsical styles and talented artists found throughout the internet. Last week I mentioned the brand new design and inspiration magazine
Rue
; this week I'd love to share two of my newly-found favorites,
Cellardoor
and
Unicorn/Dream
. (I did a post previously about the fabulous photography of Mike Bailey-Gates in a past issue of Unicorn/Dream
over here
.) And yes, that's Kathryn Prescott (looking ever so lovely as a brunette) on the cover of Cellardoor!
In Unicorn/Dream I love the photography of
Aleyn Comprendio
(check out her gorgeous Flickr photostream – it's a beautiful place). She also photographed the beautiful cover. There are pages and pages of stunning photographs, poetry, Etsy finds (lace gloves!) and so much more to get lost in. Also, check out the delightful inspiration page on their web site for even more whimsical goodness.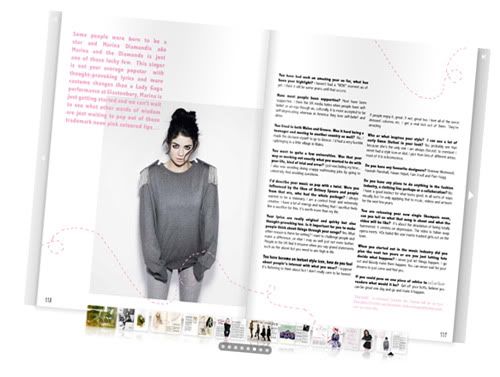 And in Cellardoor it's so exciting to see
Emma
's interview with Marina Diamandis aka Marina and the Diamonds! I love Marina's music quite obsessively. Also loving the fab
A/W Trends
article with illustrations by Abby Wright and the
Whimsical Wallpaper
interview with Hannah Dick. Cellardoor also has a
blog
, so go check that out too!

I am Not a Robot – Marina and the Diamonds
Enjoy your weekend and happy reading!
Comments